Do you need a vacuum sealer for Sous Vide? No, it's not a must but recommended. Here are some reasons.
Bag is airtight-sealed
Vacuum sealed bags are airtight. There is no worry about water entering inside them during Sous Vide cooking. Even when an entire bag is submerged in water, a vacuum sealed bag prevents water from entering. When you use Ziploc bags, you don't want to submerge them. It may end up with a bag opening itself and spilling food and all flavors in a water bath.
Transmit heat evenly
When you use Ziploc bags, you can remove most of the air from the bag by hand or water pressure, but not perfectly. It's likely that some portions trap the air. The areas around these portions tend to be under-cooked because the heat transmits poorly. Good vacuum sealers remove the air completely. Thus, it's suitable for Sous Vide cooking which requires precise temperature control.
Save your time with the primary purpose of vacuum sealing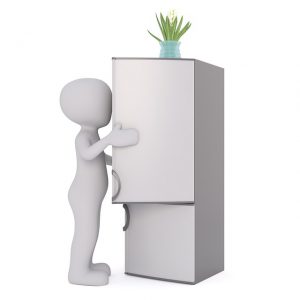 When food is vacuum sealed, it stays fresh longer than food without vacuum sealed. The exposure to oxygen in warmer temperature helps the growth of bacteria. It results in spoiling the food quickly. A primary purpose of vacuum sealers is to keep food fresh longer. For Sous Vide cooking, a vacuum sealed means ready to cook. It's not only for keeping food fresh longer but also saving you time.
Quickly and neatly placed in a water bath
Ziploc tends to be bulky. It may be fine when you cook a single portion. But, when you cook multiple portions at a time, it may be troublesome to place them evenly in a water bath. A good vacuum sealer can cut a bag as little as possible. Vacuum sealed bags are no bulky part such as a resealable zip, and there is no worry about opening itself. As a result, you can easily place them in a water bath.
Here are some equipment and features of vacuum sealer. They help you choose the best vacuum sealer for you.
Drip tray
It's favorable that a vacuum sealer has a removable drip tray. You don't want the machine to suck liquid from food as it causes damages. A drip tray catches liquid to protect the sealers. If it's removable, it's easy to clean.
Built-in storage with cutter
Using rolls saves you money than pre-cut bags. And they have another benefit that you can customize the sizes. A vacuum sealer with storage space for rolls is more convenient than it may sound. If you choose a vacuum sealer with built-in roll storage, just make sure it has a built-in cutter, too. Pulling and cutting enough size from a roll is the very first step for every portion of food. A vacuum sealer with built-in storage with cutter saves you a lot of time.
Handheld vacuum sealer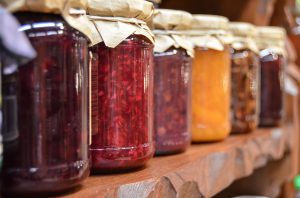 A handheld vacuum sealer makes it possible to handle mason jars or other containers. Some models have only a port for a handheld vacuum sealer or other accessories. You may purchase these accessories later if necessary. And some models don't even have a port. You will never use mason jars or other containers with such models.
Here are three popular vacuum sealers in 2017.
FoodSaver 2-in-1 Vacuum Sealing System with Starter Kit v4840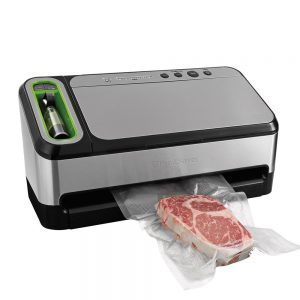 FoodSaver v4840 is 2-in-1 vacuum sealer, meaning it comes with a handheld vacuum sealer. A handheld unit is neatly placed on the top when no use and vacuum hose is retractable. Built-in roll storage with cutter can save you time. It has a removable drip tray for easy cleaning.
Starter Kit includes
(1) 11″ x 10′ Roll
(3) Quart heat-seal bags
(2) Gallon heat-seal bags
(3) Quart zipper bags
(2) Gallon zipper bags
FoodSaver FM2000-FFP Vacuum Sealing System with Starter Bag/Roll Set
FoodSaver FM2000-FFP is a compact, yet versatile vacuum sealer. The manufacturer claims that new technology minimizes bag material used 40% less than traditional FoodSaver units. It doesn't have built-in roll storage or cutter. But it has a vacuum port to connect a hose and attachment (sold separately) to seal mason jars or other containers.
Starter kit includes
(1) 11″ x 10′ Roll
(3) Quart bags
(2) Gallon bags
(1) Accessory Hose
Vacuum Sealer By NutriChef w/ Starter Kit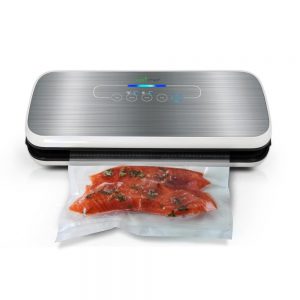 NutriChef vacuum sealer is compact, sleek, and one of the most economical vacuum sealer. A vacuum port for accessories is located inside the panel, and there are soft-touch digital buttons and LED indicator lights on the panel. This design makes it flat and slim. There is no drip tray, so you may need extra caution especially when you seal food with moisture and liquid. Available in black and silver.
Starter kit includes
(1) Extra Long Vacuum Bag Roll 7.8'' x 79.0''
(5) Medium Vacuum Bags 7.8'' x 11.8''
Wine Stopper Cork
Air Suction Hose
| Product | FoodSaver 2-in-1 v4840 | FoodSaver FM2000-FFP | Vacuum Sealer By NutriChef |
| --- | --- | --- | --- |
| Dimension | 20" x 11" x 12" | 17.6" x 10.6" x 5.9" | 14.18 "x 6.07" x 3" |
| Weight | 10 lb | 5.3 lb | 2.94 lb |
| Removable drip tray (Y/N) | Y | Y | N |
| Built-in roll storage & cutter (Y/N) | Y | N | N |
| Handheld sealer | Y | N (hose included, attachment sold separately) | N (hose included, attachment sold separately) |
| Accessory port | Y | Y | Y |
| Price | $179.99* | $79.99* | $59.99* |
*Click to see the latest price