The official YouTube app has returned on Fire TV streaming media players and Fire TV Edition smart TVs. Due to the battle between Amazon and Google, YouTube was not directly available on Fire TV devices. During the time of absence of the official YouTube app, there is a workaround to watch YouTube videos through the Silk or Firefox browser. The workaround was satisfactory. However, it's better to use the official app than a web browser because you can use voice commands.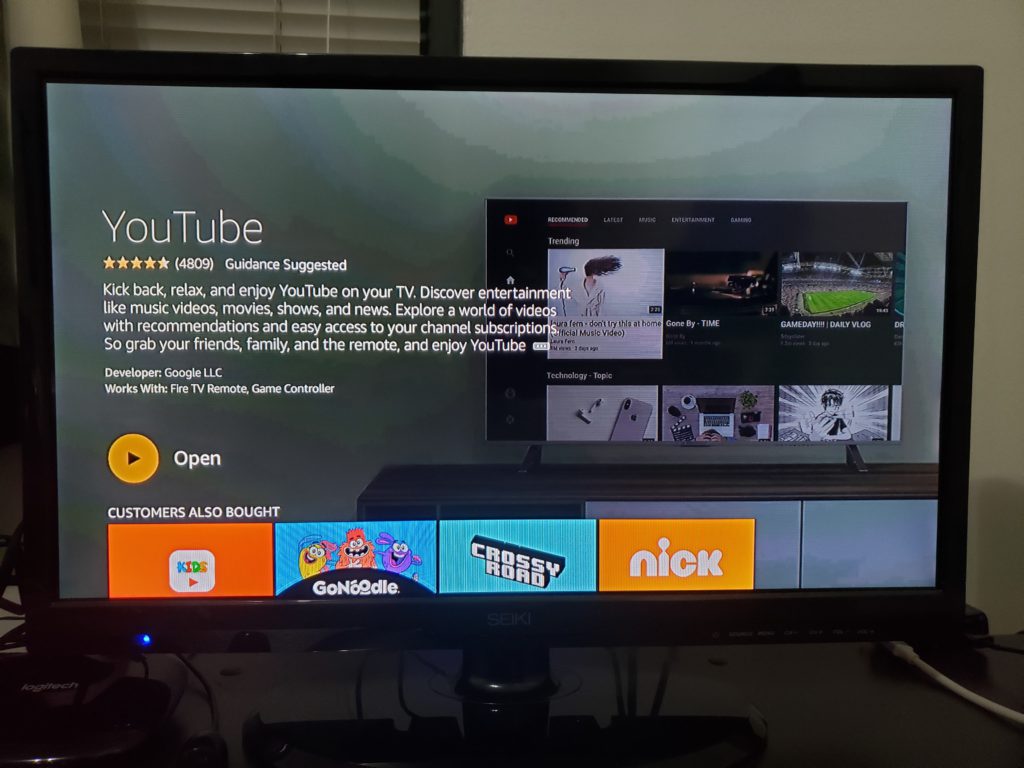 Just watching YouTube videos doesn't make much difference whether it's on the official app or on the browser. But, on the official app, you can use various voice commands and searches.
Once you download and install the YouTube app, you can open the app by pressing down the voice button on the remote and saying, "Open YouTube." After launching YouTube, you can look for videos by voice search. For examples, you can say "Play cats video" or "Find recipes for shrimp salad" without saying a word "YouTube." You can also control videos such as pause, resume, skip, rewind, fast-forward with your voice.
Conversely, Amazon Prime Video is now available on Chromecast-enabled TVs. But, at the time of writing, I can't find the "Cast" button on the Prime Video mobile app. I guess they will update the app and be able to available later.
In the meantime, there is also a workaround for Chromecast-enabled TV to play Prime Videos. It doesn't work with a smartphone. You need a Chrome desktop browser. Open Chome and click 3-dot on the top right-hand corner. find "Cast" from the dropdown and click. A small popup window appears and shows available Chromecast devices. Choose one and click. Now, whatever you see on the desktop browser is shown on TV, too. Start the Prime Video on the browser, and you will see it playing on TV. Unlike Cast-compatible apps like YouTube, Hulu, or Netflix, this workaround method is a mirroring. You have to keep the browser open and let it play. If you close, it will shut down on TV, too.
The battle between Amazon and Google
The battles started several years ago. In 2015, Amazon removed Apple TV and Google Chromecast from its online store due to incompatibility with Prime Video streaming service on these devices. In 2017, Amazon Echo Show was released, but soon after that, Google pulled YouTube from Echo Show because "implementation of YouTube on the Echo Show violates our terms of service, creating a broken user experience." Then, Google-owned Nest Products disappeared from Amazon online store. Later, YouTube had returned on Echo Show for a short while, but Google pulled it again, not only from Echo Show but also from Fire TV devices. Since then, there had been no YouTube app on Echo Show or Fire TV devices. To watch YouTube videos, you had to open a web browser and go to YouTube.com.
The image above was taken when I tried to open the workaround app, which is actually a bookmark on the Silk browser. Fire TV says it will be removed in the coming weeks. I hope the official YouTube app will stay forever. And I hope YouTube to return on Echo Show as well.
Related Posts