Electronics manufacturers are fueling your endless desire for new tech gadgets by releasing new products or updated version of the existing product year after year. And you are probably wondering how to squeeze money out for the next new gadget. But, the first thing you should do may be to look in a drawer. Your old and used electronics may have more value than you think. You can turn them into cash and use it for the next purchase. Selling on eBay for yourself is rewarding. Although it may take some time for your item to be sold, you can get a lot more money than the retail store's trade-in program. Here are tips on how to sell used electronics on eBay.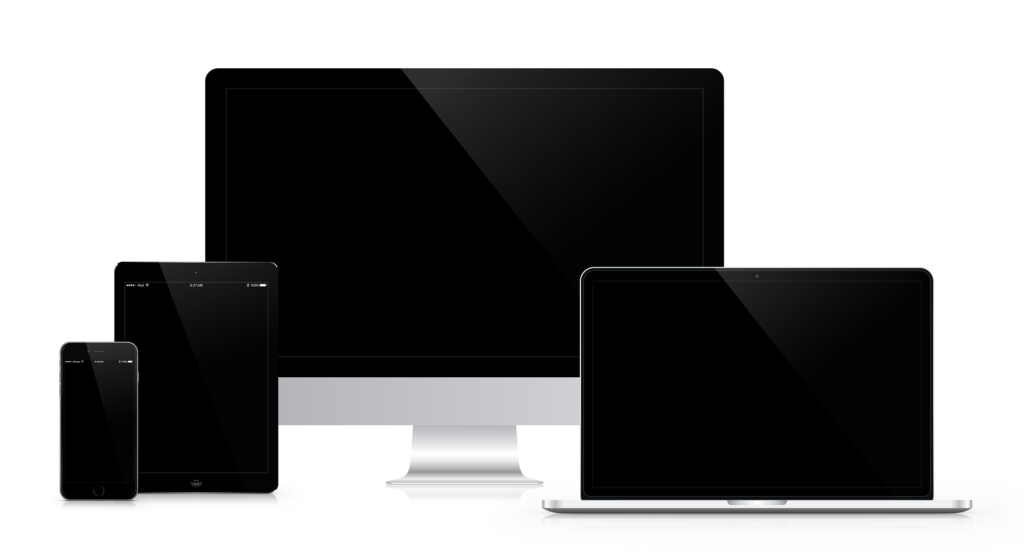 How do you know the reasonable price of used electronics?
First off, try to find a UPC or Model number from an item's box and enter either of them in a search box on eBay. If you don't find either of them, use the names of brand and product instead. You can narrow down the results based on capacity, RAM, size, color, etc by checking boxes on the left. You can also sort out by price. Choose "Price + Shipping: lowest first" to find out what prices are competitive and possible to be sold quickly.
Some sellers offer free shipping, and some don't. Shipping costs they charge vary by sellers and locations of buyers, and you can't see them on the search result page. (You will need to click and open each listing to see the shipping cost of each seller.) So, if you have many search results, just see the prices with free shipping by checking the box "Free Shipping" on the left.
The prices you got so far are currently low. However, it's possible that they are all too expensive for buyers. Say, all items with lower prices may have been already sold and what you are seeing in the search result is the leftover. If so, it may be difficult to sell at those prices. To find out a reasonable price, you need to see the listings that had been sold.
Unlike Amazon, eBay discloses the information of sold items. You can see the prices and when the items were sold. Check the box saying "Sold Items", and you will see the sold listings with prices. Some prices are strike-through with a note "Best Offer Accepted", which means the buyer has negotiated and the seller has accepted the lower price. You can't tell the exact price but it is lower than the price with strike-through.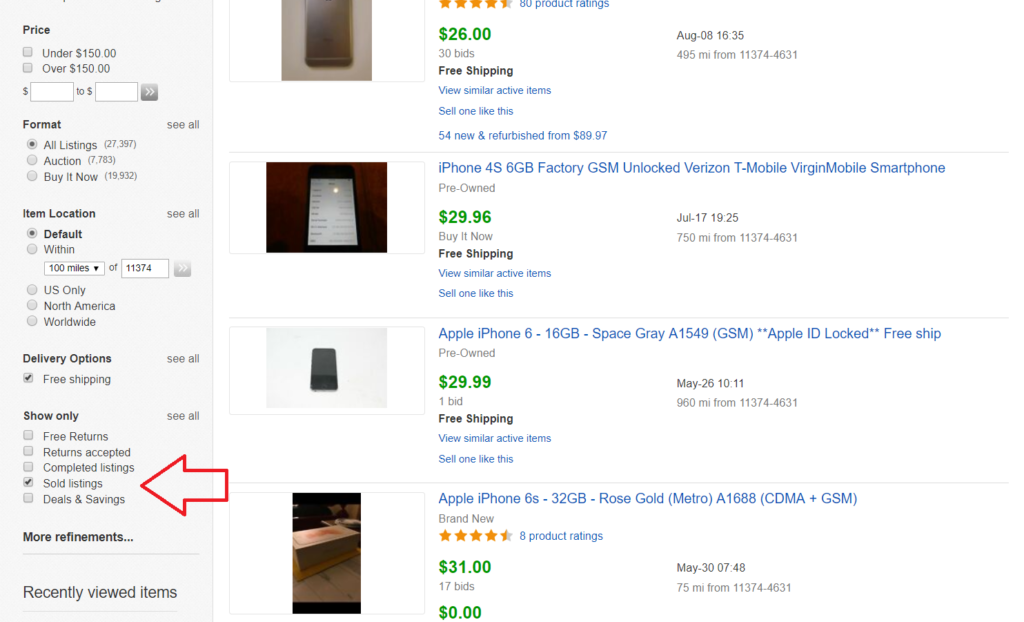 How do you know how much it costs for shipping?
Whether you offer free shipping or not, you have to know how much it costs for shipping and take it into account to decide the price. If you sell electronics, I strongly suggest using a cupboard box instead of a padded envelope. USPS offers Priority mailing boxes for free. Priority mail arrives with 3 business days and includes tracking service and $50 insurance. You may choose either flat rate box or box by weight depending on the item's size and weight.

If you don't have a scale, check this scale. I have been using the exact same one for over 5 years and never break. Since the display is separate, it's good to weigh large boxes.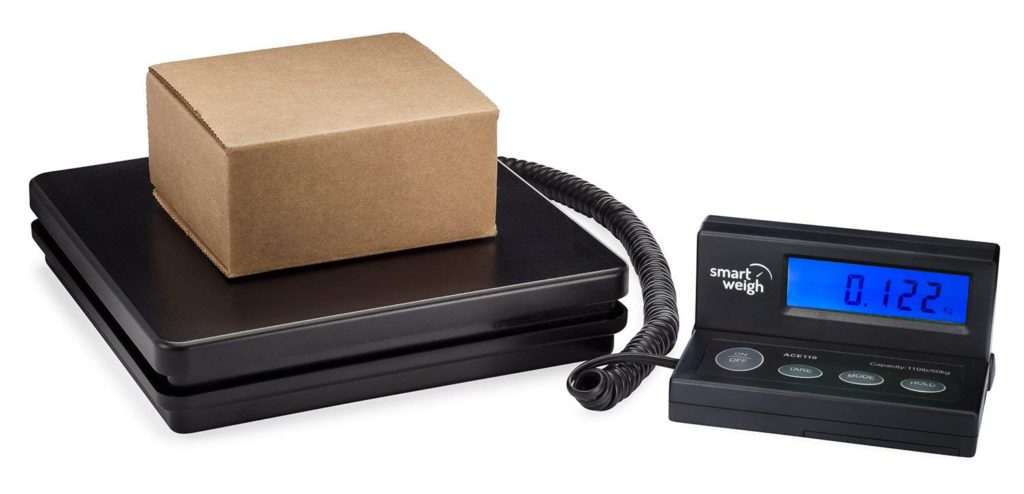 eBay has a built-in shipping calculator. You will see and use it when you create a listing. Take shipping cost into account to make the price of your item. Please note that you have to have a tracking number even if your item is light and use First Class mail. Tracking is automatically added if you pay and print out shipping label through eBay. If you go to the post office and pay for shipping, make sure you add tracking service.
eBay selling fee and PayPal fee
Shipping cost is not the only fee when you sell something on eBay, but you need to pay a selling fee to eBay and PayPal. eBay fee is 10% and PayPal is 2.9% plus $0.30. There are several websites to calculate fees, shipping, and net profit altogether, I use this one, it's free.
Tips for a listing #1: Upload many photos
Many years ago, eBay allowed the only one photo in the listing for free and charged extra fee for additional photos. Now, you can upload up to 12 photos for free. Take full advantage of it and upload 12 photos, Don't just use a stock photo only. A stock photo is good for the sellers who sell many quantities of the same item. If you sell only one item, why don't you show the full details of it by uploading many photos? If you sell a smartphone, take pictures of the front, back, sides, corners, and close looks. We live in a digital age. What's so difficult to take and upload 12 photos. Many sellers are lazy and upload only a few pictures or even not a single one except for a stock photo. You can stand out these sellers by just uploading many photos.
Tips for a listing #2: Detailed description
You don't have to describe the features and functions of the item. Potential buyers most likely already know of them. And things like capacity, RAM, size, color, etc are important but you can put them in somewhere else like titles and items specifics. What you have to describe is the details of the condition of your item. Write it down as detailed as possible. However small you think a scratch, dent or something alike is and even if you don't mind about that, just write it down. There is no point in hiding details or fibbing about your item. Including detailed description in the listing will avoid item return and waste money for shipping back and forth.
Perform a factory reset
You will need to erase your data from your electronics. For example, if it's a smartphone, it may contain personal data, login password, browsing history, bank account info, credit card info, pictures, and more. There is so much information inside. You don't want them to stay in the hand of someone you don't know.
Don't forget to deregister a device from your account
Deregistering a device from an account is as important as doing a factory reset on a device. Many people know about a factory reset but don't know about deregister. Without deregistering a device, both you and the new owner may experience something weird in your account or the new owner's account. Go to a website related to your item, and you will find instruction or link somewhere in your account page. Click here to access the links of Apple, Amazon, and Android.
What's the best time to sell used electronics?
When to sell used items? The sooner, the better. The value of electronics decreases as time goes by. Especially, when the new version has come out, the value of the older versions drop significantly. The best time is when you realize that you no longer use it. Go to eBay to start selling.