The 2nd generation of Philips Hue Starter Kit includes the Bridge 2.0 which is compatible with Apple Homekit. With it, you can control Philips Hue lights with Siri Voice command. If you have 1st generation of Philips Hue Bridge, don't get disappointed. Philips Hue Bridge 2.0 alone is sold for $59.99, and you can continue to use all Philips Hue light bulbs with a new Bridge.
Add Philips Hue to Apple HomeKit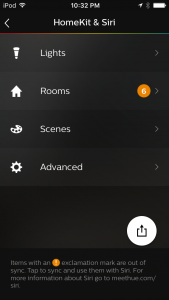 Once you set up a new Bridge, go to HomeKit app on your iOS device. Tap "+" icon and/or "Add Accessory" and you will see an icon of Philips Hue. Tap it and scan or manually enter the 8-digit setup code either on a package of the Bridge or back of the device itself. HomeKit app recognizes all light bulbs with the same names as you set up in Philips Hue app. From this moment on, you can control all lights with Siri individually. However, HomeKit app doesn't know Rooms yet, which you also created in Philips Hue app. The easiest way of setting up rooms is open the original Philips Hue apps and go to "Setting" then "HomeKit & Siri." You will see an orange circle with an exclamation mark or number in the section of "Rooms." It means it's available to sync with HomeKit app. Tap a white circle and "Resync home", and HomeKit recognizes Rooms. Now, you can control multiple lights in a room with Siri as well as an individual light.
Set up scenes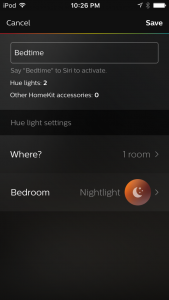 You can turn lights on and off, brighten, dim, and change colors with Siri. You can also change scenes, but you will need to extra steps to do this. If you want Siri to turn on nightlight in your bedroom, you have to create a scene. Tap scene "+" , "Where?" and select a room and go back. Tap [room] and choose a scene. You will see a list of Philips Hue's default scenes and your original scenes if you have created ones. Say you chose Bedroom, Nightlight and entered "Bedtime" as a name of the scene. Saying "Hey Siri, set bedtime" changes lights in bedroom to nightlight. But it won't work for other rooms. For example, "Set bedtime in Kids room" or "Set bedtime in Living room" won't change light in these rooms unless you configure for them. It's very bothersome because you have to create each scene in each room.
Compared with Alexa
Speaking of scenes, Alexa is much easier to set up than Siri. All you need is to enable Philips Hue Skill. After that, you can change all scenes in any room by saying "Alexa, turn on [scene name] in [room name]." Instead of this, Alexa can't change colors of lights directly like Siri.
See Also: Alexa can directly change scenes of Philips Hue lights without IFTTT now
Conclusion
Lighting is just one of HomeKit compatible devices. If you have other smart devices in your homes like security and heating, you can add them in HomeKit app. And smart home technology has just started. More and more devices and features will be available, and they will make your life more convenient in the future.