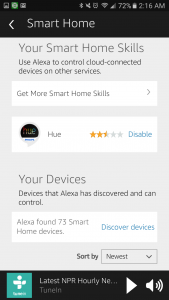 You can now change scenes of Philips Hue lights with Alexa. Before, you were able to turn on and off or brighten and dim the light with Alexa. You can also change color with Siri. Or you can change the scene with Alexa though IFTTT app after you create "Recipes" for each light bulb. But now, thanks to the Skill: Hue by Philips Hue, you can directly change scenes with Alexa. Here is how it works.
Find and enable the Skill
First, open Alexa app and search "Hue" skill. Then tap "Enable Skill." You are prompted to log in your Hue account because the Skill require a Hue account link. Enter your email address and password, and it automatically goes to Smart Home section in Alexa app. And Alexa app also automatically starts finding Smart Home Devices.
Alexa finds all your Hue devices and scenes
You can see a full list of default scenes for each room in Smart Home section of Alexa app. If you have created your original scenes, you will see them as well. Now, everything you can do with Hue app can be done by saying "Alexa, turn on [scene name] in [room]." For example, "Alexa, turn on Concentrate in Office" or "Alexa, turn on Nightlight in Bedroom." In addition to the scenes, there is a feature called Colorloop which continues to change colors of light very smoothly. For example, "Alexa, turn on Colorloop in Living Room."
Doesn't work? Try this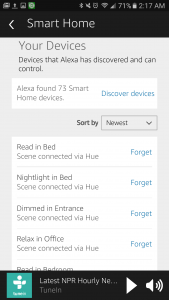 If Alexa says, "This command does not work with device (scene) in (room)." or something similar, try this. Open Alexa app > Tap "Smart Home" > Scroll down to "Your Devices" and tap "Discover devices." Although you see a list of all scenes and devices in the app, try to discover devices again. But while Alexa is looking devices, press the button of Philips Hue Bridge. Personally, I was told the same message over and over by Alexa and changing scenes didn't work. But after I pressed the button while searching, it works perfectly.
Conclusion
Alexa still can't directly change colors like Siri (like "Hey Siri, change Desk Lamp to white".) (As of Apr, 2017, Hue skill enabled the feature of changing color of light bulbs directly.)  And with IFTTT app, you can change scenes as well, but it takes a little more time because Alexa sends your command to IFTTT and then IFTTT sends it to Philips Hue. If you are accustomed to Philips Hue app and using its default or your original scenes, Alexa with Hue skill can do everything you need. And Colorloop is a nice feature.
Please note that the Skill is only compatible with the 2nd generation of Philips Hue Bridge, which is a square shape. A circular shape of 1st gen Bridge is not supported. As an option for owners of 1st gen, you can easily upgrade to 2nd gen by swapping only Bridges. (you can continue to use existing light bulbs with a new bridge) 2nd gen Bridge is available for $59.99.