Design
BlackVue DR650S-2CH is a dual channel (front and rear) dash cam. Both cameras have 360-degree rotating cylinder design. The front camera is around 4.5 inches wide, and the rear camera is around 2.5 inches. The front cam has a plug for 12V power, V-input from the rear camera, and Wi-Fi on/off button on the side. A slot for microSD card is located on the same side but hidden by a cover. Pull out cables and remove the cover, and you can access to a memory card. Both cameras use adhesive to stick on either a windshield or rear window. 360-degree rotating design allows you to change an angle, or even turn 180-degree to record inside of the car.
Video Quality
The front cam offers Full HD 1080p video quality, and the rear cam offers Standard HD 720p. The both cams have 129-degree viewing angle, which is relatively narrower than other brands of dash cams. (Thinkware 140-degree, Cobra 160-degree)
Memory Card
The dash cam is compatible with up to 128GB memory card. It is recommended to format it once a week. To format a memory card, hold down the Wi-Fi button on the side for 10 seconds.
Video Files
There are three types of files (Normal/Event/Parking) created by the dash cam depending on the circumstances. These files can be copied, moved, renamed or deleted in an app. Please note, for parking surveillance, the dash cam needs a power supply such as Power Magic Pro or Power Magic Battery Pack when your car is parked.
See Also: How does a parking surveillance by dash cam work?
App and Software
Since there is no display on the dash cam, it's the only way to see or manage videos in the app on smartphones or computers. For the app on smartphones, the dash cam connects to your smartphone via Wi-Fi. So, you don't need to remove a memory card. In addition to managing recorded videos, you can also see Live View that is currently being recorded.
For the app on a computer, you do need to remove a memory card. Advantages of the app on a computer are a larger display, zoom features, showing front and rear videos simultaneously, and displaying location on a map.
BlackVue Cloud
If you have a Wi-Fi hotspot or Wi-Fi network near your car, you can use Blackvue Cloud. The Blackvue mobile app connects to the dash cam anytime from anywhere as long as you have an internet connection. You can remotely organize video files, watch live view or set up push notifications to your smartphone. In addition to them, you can talk to a driver using built-in microphone and speaker of the dash cam. To use Cloud features, you will need a Wi-Fi hotspot's device and plan. And the dash cam needs a power supply such as Power Magic Pro or Power Magic Battery Pack to have the dash cam connected all the time even when you park your car.
Conclusion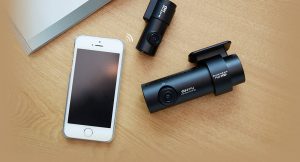 BlackVue DR650S-2CH is Wi-Fi enabled dash cam. With Blackvue's mobile app, you can manage video files without removing a memory card. Plus, if you have Wi-Fi hotspot in your car, you are always connected to the dash cam over the cloud. Please note that the dash cam doesn't include a Wi-Fi hotspot device and plan. A hardwiring kit is necessary for parking surveillance, and it is sold separately as well. Thus, if you want to use all features of the dash cam, overall costs will be expensive. But it's believed that BlackVue DR650S-2CH is one of the most innovative dash cams on the market.