Amazon Echo Show 5 is an Alexa-enabled smart display. "5" of the name is after the size of a display. It has a 5.5-inch touchscreen. A physical shutter to cover the lens of the camera is simple yet effective. It fits in many places like a shelf, desk, side table, nightstand, and more. It's like a digital alarm clock with fancy features. The price of $89.99 is very attractive.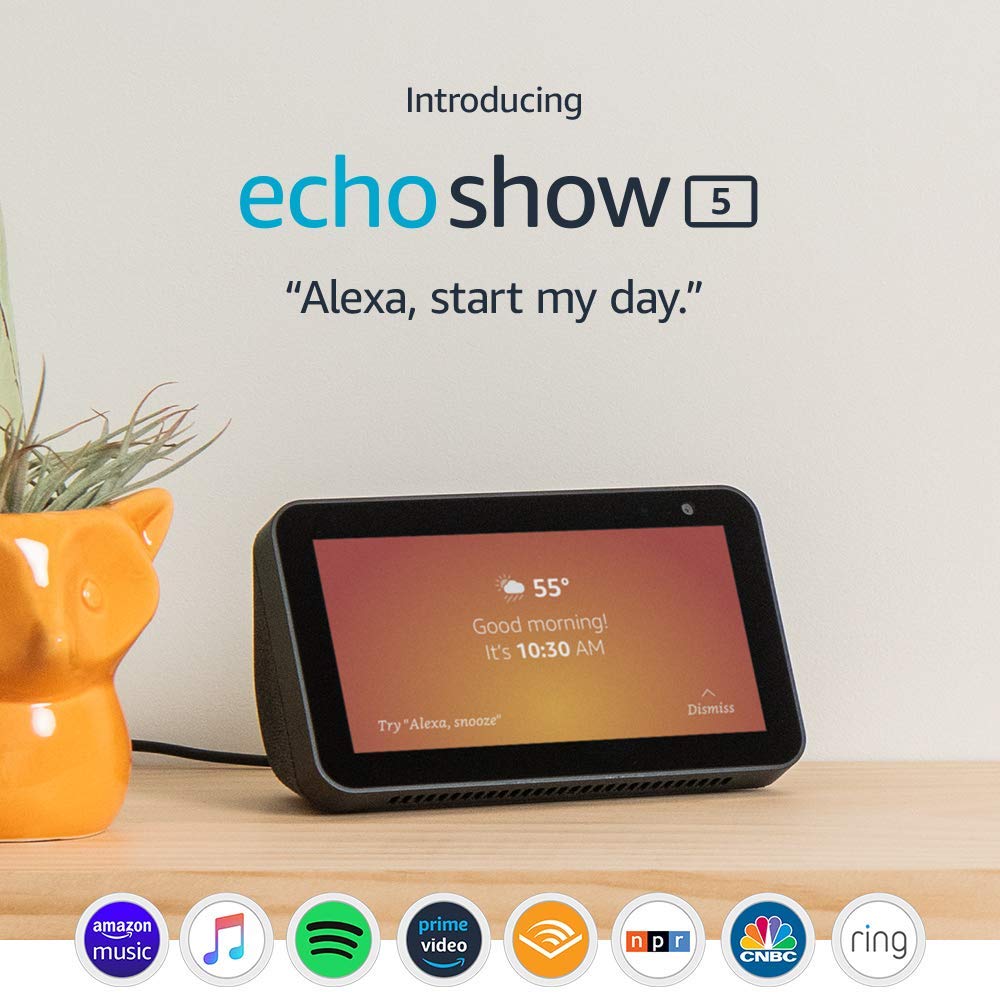 Price
First things first, the most attractive thing about a new addition of Amazon Echo device is the price. It is $89.99 which is less than half the price of the second generation of Echo Show ($229) or even less than Echo Spot ($129).
Design
The design of Echo Show 5 is the same as the 2nd Echo Show. It's just smaller. It has a 5.5-inch touchscreen on the front that is around an average size of smartphones' display. The back case is covered by the fabric. It's available for two different colors: Charcoal and Sandstone.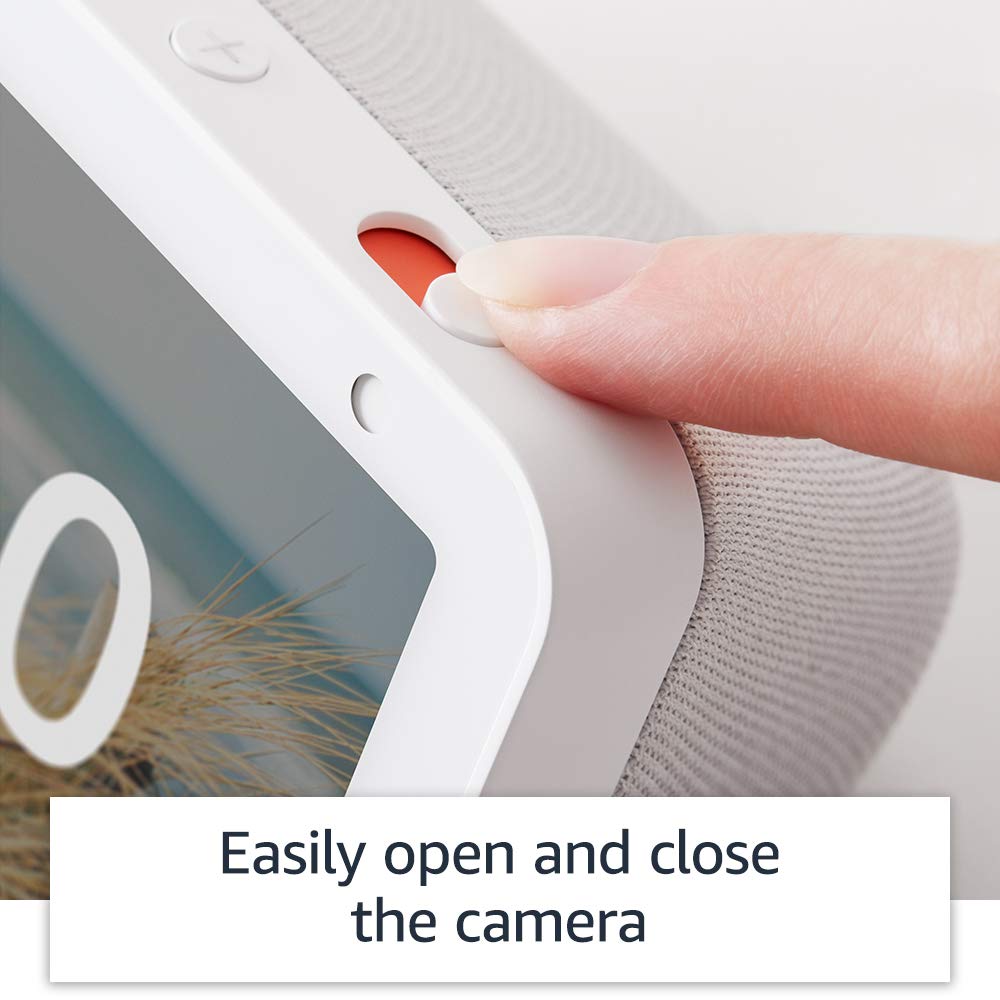 On the top, there are volume up, volume down, and microphone on/off buttons. A front face camera is on the top right corner. The camera can be closed by a physical shutter on the top. It's simple but it's effective to your mind by giving you more security of your privacy.
On the back, there is a charging port, 3.5mm audio output, and micro USB. The purpose of the micro USB port is unknown. Some say it's for a wired network connection, but not confirmed.
Features
The features of Echo Show 5 is almost the same as the 2nd Echo Show. You can watch videos, play music with lyrics, video call, control smart home devices, view security camera, drop-in, etc. In addition to these features, it has the features as an alarm clock. You can choose from several fun clock face designs. When an alarm goes off, hitting on the top will be the same function as a snooze button. Ambient sunrise lighting feature makes it gradually light up prior to the set time that will help you wake up smoothly. however, somehow you can use this feature between 4 am to 9 am. it's very strange.
As compared with the 2nd Echo Show, what is missing is the built-in smart home hub which connects ZigBee lights and switches without a manufacturer's hub. Of course, if you have a manufacturer's hub or WiFi lighting or switch which originally don't require a hub, you can control them with your voice via Echo Show 5.
Sound
Echo Show 5 has a single 1.65-inch 4W speaker, while the 2nd Echo Show has two 2-inch 10W speakers. The speaker is good enough for playing podcasts, radios, or chatting. But, it's not room-filling. When you play the music, you may want to connect your external speakers via 3.5mm audio output.
Other smart displays to consider
Lenovo Smart Clock ($79.99) is 4-inch touchscreen smart display. It uses the Google Assistant. But it lacks a camera and internet browser. Google Nest Hub ($129.99) is another smart display with Gooogle Assistant. It has a 7.7-inch touchscreen. It has much better speakers with a lot of features. But it also lacks a camera, and it's more expensive.
If you already invest in Amazon Alexa's ecosystem, you probably want to choose one in Amazon's Alexa devices. What about Echo Spot? Echo Spot has the same concept as Echo Show 5. It's small and more like an alarm clock with smart home features. As long as you use Echo Spot as an alarm clock or video calls, it's OK. But, for other things like watching videos, or viewing cooking recipes, Echo Spot's display is too small. Besides, it's more expensive than Echo Show 5.
Conclusion
If you are an Amazon Prime member or already familiar with Alexa, you may want to choose the 2nd Echo Show or Echo Show 5. Echo Show 5 is more like an alarm clock. It has alarm clock features like snoozing and sunrise lighting. Of course, you can do many other things like the 2nd Echo can do. It's small to fit anywhere. If you don't need a large display or room-filling speakers, Echo Show 5 would be a nice addition to anywhere in your home. Click here to see the latest price at Amazon.com.
Related Posts