You may have a lot of media devices in your living room. Unlike a half-century ago, a TV is not the only device to entertain people in a house these days. There are DVD player, AV receiver, streaming player, cable box, and so on. You may have purchased a TV rack to store all these devices neatly, but what about remote controls that come with all the devices. Aren't these scattered in your living room? Aren't you sick and tired to search for them when you urgently need them? The problem is simple. They don't have a particular place to be put. Getting a remote control organizer would be a solution. Here are some popular types of remote control organizer.

It's simple and basic, but they are a variety of designs, size, and materials. Some have smaller compartments for keys or pens, and some can rotate 360 degrees on the bottom.

They are hanged on an armrest of the couch, sofa, recliner, etc. The side with pockets for remote controls faces outside, and the other side is tucked into a seat of a chair. It may have a pole on end to prevent an organizer from slipping. You can adjust the length hanging outside by rolling up on the pole. If an armrest is wide enough, you can choose ones with a tray on the top.

If you have a TV in your bedroom, needless to say, the bedside is the best place to store the remote control. They are the same as ones for a chair. One side hangs outside of the bed, and other is tucked under mattress or frame of the bed. You may want to consider an organizer with a pocket for a tissue box or a large slot for a magazine.

Most of them are made by acrylic, and they are clear, so they fit anywhere in the house. Not only can you mount it on a wall, but you can also hang it on furniture. Hardware such as screws and adhesive pads are most likely included.
Getting a Universal Remote to reduce the number of remotes
For those who don't like the idea of getting something extra item on a coffee table or hanging on an armrest, you should consider getting a universal remote control. The benefit of a universal remote is to pair multiple media devices so you can consolidate some remote controls. The less number of remotes, the more easily you can keep track of them.
A basic universal remote can be bought for around $10, and it can pair multiple media devices. For example, the remote in the picture above costs less than $10, and it can pair up to 4 devices.
Logitech Harmony 650 Infrared All in One Remote Control

If you invest more, you can get a remote with a color LCD. The LCD helps you navigate, assign, and select a favorite channel easily. You can also configure One-touch Activity buttons. For example, pressing a single button will turn on the TV, AV receiver, and DVD player, and then open a tray of the DVD player. The Logitech Harmony 650 costs around $40. It can pair up to 8 devices.
Premium Universal Remote to pair all devices and smart home integration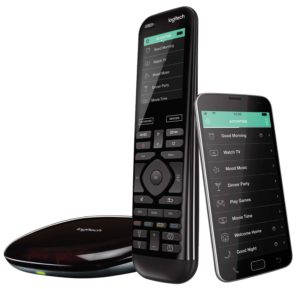 The first two (GE and Logitech 650) universal remotes are IR (InfraRed) based. You can pair them with devices that use only IR remote controls. If you want to consolidate other types of remote like Amazon Fire TV (Bluetooth) or Roku Streaming Stick (WiFi), you will need Logitech Harmony Hub-based universal remote controls. They come with a hub, and the hub is connected to your home WiFi network. This expends features even more. It can control and communicate other smart home devices such as Philips Hue and Amazon Alexa. Click here to see more details about Logitech Harmony Hub-based Universal Remotes.
Conclusion
What do you do to organize a bunch of remote controls? You may pick and use two solutions as a combination. For example, you buy a cheap universal remote to consolidate 4 of your media devices. You have one more device, say Amazon Fire TV, but you can't pair it with the cheap universal remote. So, you keep and continue to use the original Fire TV remote. There used to be 5, and now 2. It's much easier to keep track of, but you can also buy an organizer for a wall to make your living room even tidier and neater. You can choose whichever you like to tackle the problem of scattering remote controls according to your budget.