SiriusXM satellite radio unit needs to connect your vehicle's audio system. Most SiriusXM satellite radios has several options for that. The company describes each option as either Best, Better, or Good to present sound quality through each option. Here are four different connecting options.
Aux in cable (Best)
Cassette adapter (Better)
PowerConnect (Good)
FM Direct Adapter (Best)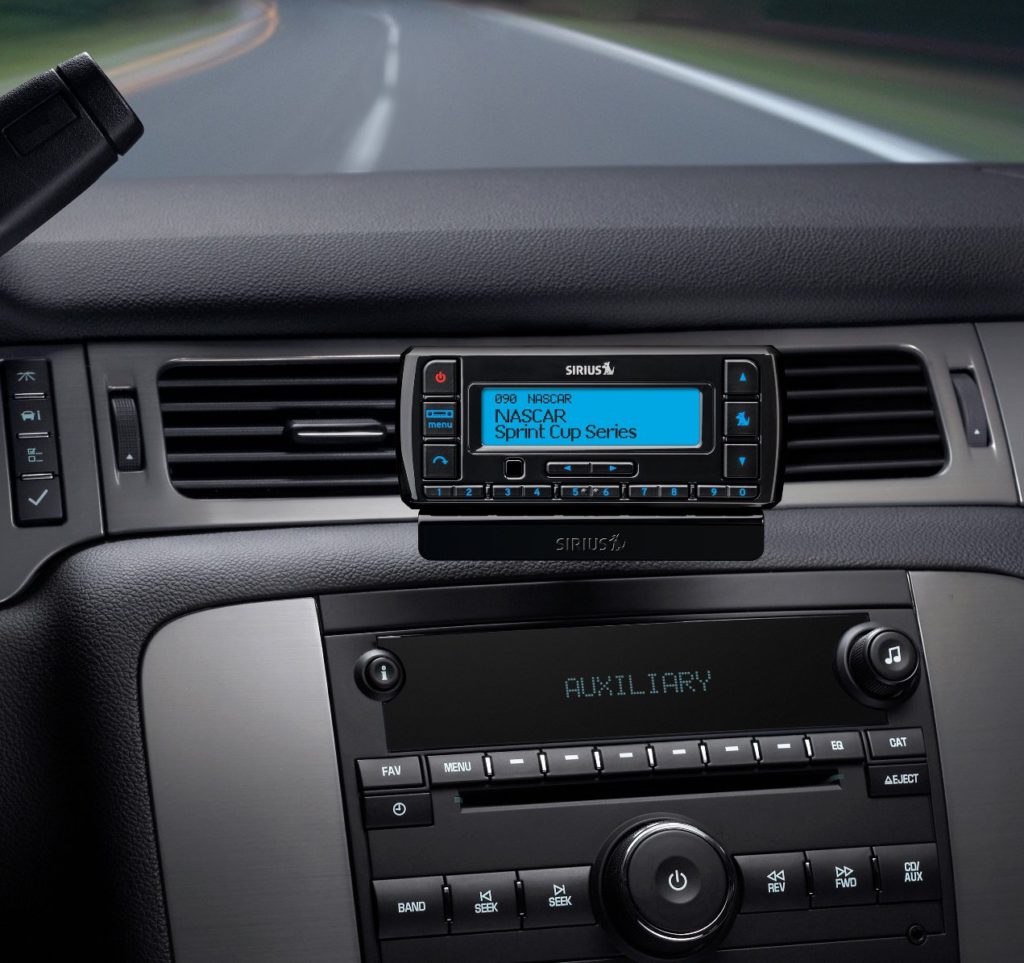 1. Aux in cable (Best)
If you buy a satellite radio with vehicle kit, a 3.5mm aux cable for this connection should be included. How to connect is straightforward. Plug one end to aux jack on the dock of satellite radio and the other end to aux jack on your car stereo.

Please note that the location of the aux jack varies by the models of vehicle. While most of them are located on the faceplate of car stereo, it can be somewhere distant from the car stereo. It may be hidden in a glove compartment or center console.
Keep in mind that older vehicles may not have the jack in the first place. So, if you can't find the jack on common places, you'd better refer to the owner manual to save you time.
2. Cassette Adapter (Better)
If your car stereo has a cassette player, you have an option to use Cassette Adapter. A cassette adapter looks like a cassette tape with a cord attached on the side. And, the end of the cord is a 3.5mm plug. Plug it into aux jack on the dock and insert the cassette to the car stereo.
It works in almost the same way as Aux in cable. However, since electricity has to go through the adapter and then a cassette player, sound quality should be reduced as compared with Aux in cable.
None of SiriusXM satellite radio includes a cassette adapter. It's not that expensive. The price ranges from $10 to $20. Just choose one with good reviews like this one. And, it's important to not confuse with Bluetooth cassette adapters. They also look like a cassette tape with a cord. But, the end of the cord is not a 3.5mm plug but a button (which may answer, call, and control a connected cell phone.) Bluetooth cassette adapters just don't work with SiriusXM satellite radios.
3. PowerConnect (Good)
PowerConnect is basically an FM transmitter. All devices are built into most SiriusXM statellite radios with Vehicle kit. It consists of a power adapter, the dock, and the tuner. You don't need extra accessories to use this option.

PowerConnect uses FM channels that are not being used by local FM stations. Once you find ones, match up, check the sound quality, and configure the setting on the satellite radio. The configuration procedure varies by model of SiriusXM satellite radio. Please see the instruction manual of your satellite radio.
PowerConnect transmits FM signal to the air and your car stereo tunes to it. So, you can say that it's just another FM channel in terms of sound quality. SiriusXM describes this option as "Good," but it's the lowest quality of all.
4. FM Direct Adapter (Best)
FM Direct Adapter (FMDA) connects a satellite radio to an FM antenna port of a car stereo. Unlike PowerConnect, audio doesn't go through the air. So, it's virtually static-free. An existing FM antenna is also connected to the FMDA so you can listen to local FM radio stations when a satellite radio turns off.

To install the FMDA, you have to open up the panel and pull out the car stereo to access to the FM antenna. And you may still need an adapter for antenna for certain vehicles.
Please note that most SiriusXM satellite radios don't include an FM Direct Adapter.
Conclusion
As you can see, physical connections (Aux in cable, Cassette adapter, FM Direct Adapter) provide better sound quality than FM transmitter (PowerConnect.) And, a cassette adapter and FM Direct Adapter are not usually included in SiriusXM satellite radio with Vehicle kit. Thus, it may be better to stick to Aux in cable for the easiest installation and the best sound quality.
Related Posts