While Harmony Hub-based products are very sophisticated and versatile, the setting can be difficult and functions are sometimes wonky. Here are some issues and solutions for Logitech Harmony Hub-based products.
No response to any commands from the remote
When the remote stops sending commands, rebooting the remote will fix the problem. Rebooting the remote won't erase any settings such as devices and activities you have created.
How to Reboot the remote
Press and hold "Off" button for approximately 15 seconds
Can't discover hub, or devices
When Harmony app can't discover the hub or the hub can't discover new devices, rebooting the hub sometimes fixes the problem. Rebooting the hub won't erase any settings such as devices and activities you have created. (Rebooting the router often fix Wi-Fi connectivity issues, too)
How to Reboot the hub
Disconnect the power cable
Wait 10 seconds
Reconnect the power cable (the hub takes 30 seconds to power back on)
Harmony Hub frequently disconnects from Wi-Fi
If Harmony Hub successfully connects to Wi-Fi, but often disconnects, move the hub closer to the router. And keep in mind that any other electronics interfere with Wi-Fi network more or less. Move the hub away from them. Especially, microwaves, baby monitors, and cordless phones are well known for ones that interfere with Wi-Fi network.
Activities doesn't start properly
When starting activity, Harmony turns on all devices for that activity, but it fails to change correct inputs. If so, you have to change delay settings to increase the time to make Harmony wait for sending a next command.
For example, activity "Watch TV' uses an antenna input on TV, and "Watch DVD" use an HDMI input on TV. It takes 15 seconds for TV to start up and get ready to receive any commands. Without a delay setting, "Watch DVD" successfully turns on a TV and DVD player. But it fails to change input from Antenna to HDMI because when Harmony sends the command, TV is starting up and not ready to received for any commands. In this case, you will need to increase TV's Power on delay to at least 15 seconds.
You can do it on the remote with LCD such as Elite and Ultimate, or in Harmony mobile app or desktop app.
Change delay setting from the Remote
Open MENU (tapping icon at the corner either a pinion mark or three lines)
Tap "Settings" > "Devices" > "Delay Settings" > "Change Delays"
Select (tap) your device you want to change a delay setting
Choose (tap) among "Power on", "Inter-key", "Input", and "Inter-device"
Use the slider to adjust a delay
Change delay setting from mobile app
Open MENU
Tap "HARMONY SETUP" > "ADD/EDIT DEVICES & ACTIVITIES" > "DEVICES"
Select a device and tap "FIX DELAY"
Use the slider to adjust a delay
Press ">" in the top right to confirm the changes
Change delay setting from desktop app
Sign in and select the remote from the gallery
Click "Devices" and select the device
Click "Change Device Settings" and "Next"
Enter the delay value
Click "Finish" and Sync your remote
Erratic, inconsistent responses on Roku
Some Roku devices come with a remote using Wi-Fi Direct. In my experience, controlling Roku Streaming Stick with Harmony Elite was so erratic and inconsistent at first. It was very frustrating. I wasn't able to move the cursor smoothly. Every a few directional-key presses stopped responding for 5 to 10 seconds. Fast-forward or rewind the movies was always a disaster. I had never been able to stop and resume the movies where I would want it to.
This problem is easily solved by connecting your Roku to a 5GHz wireless router if you have a dual-band (2.4GHz and 5GHz) wireless router. Harmony hub is compatible with 2.4GHz Wi-Fi only.
Videos frequently stutter, pause on Fire TV
While playing videos, contents frequently stutter. Actually, this problem didn't happen with Harmony remote. But It did happen when I added a Bluetooth headphone to Fire TV Stick.The problem was resolved by the same as Roku's solution; connecting Fire TV Stick to a 5GHz wireless router.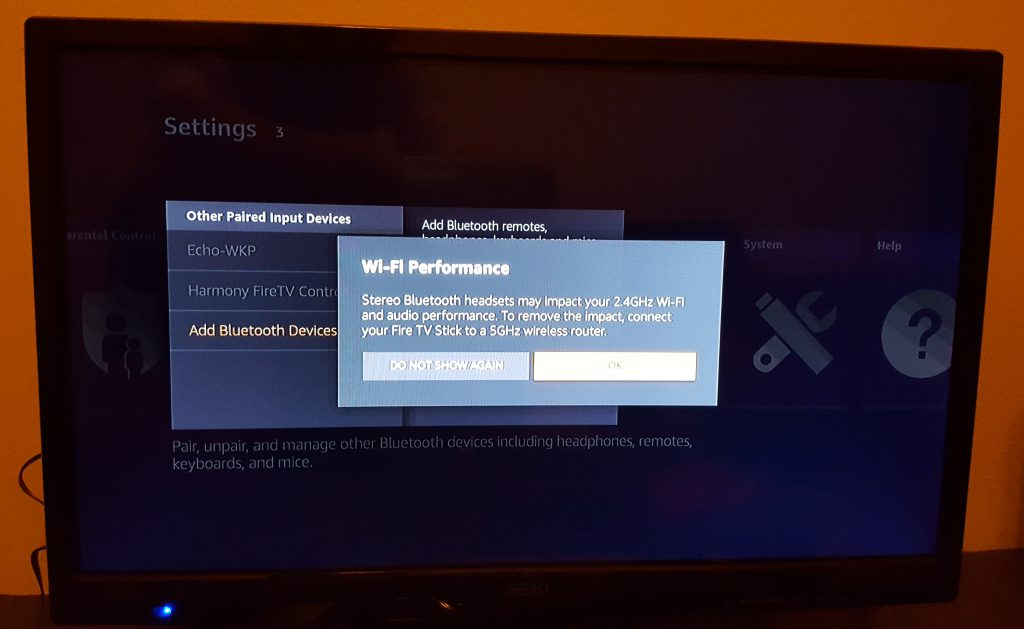 When you add Bluetooth devices to Fire TV, you will see the message in the picture above. And Harmony and Fire TV are connected via Bluetooth, too. If you have a stuttering issue, connecting to a 5GHz wireless router may fix the problem.
Factory Reset
If none of the solutions work, you may need to perform a factory reset as a last resort. It will erase all settings, devices, and activities you have created.
How to perform a factory reset
Press and hold "Menu" and "Off" buttons at the same time for approximately 20 seconds until you see a remote with a circular arrow
Sign in Harmony desktop app
Connect the remote to your computer with a USB cable
Select your remote from the Gallery
Follow the instructions in the app to restore firmware and settings
See Also: Logitech Harmony Elite review and comparison with Companion and Ultimate