goTenna Plus is a yearly subscription that allows you to use some features in addition to basic features for goTenna Mesh devices in the goTenna App. You can subscribe through the app. It costs $29 per year with a free 30-day trial. (limited-time introductory of $9.99 per year now!) Let's see all the features of goTenna Plus.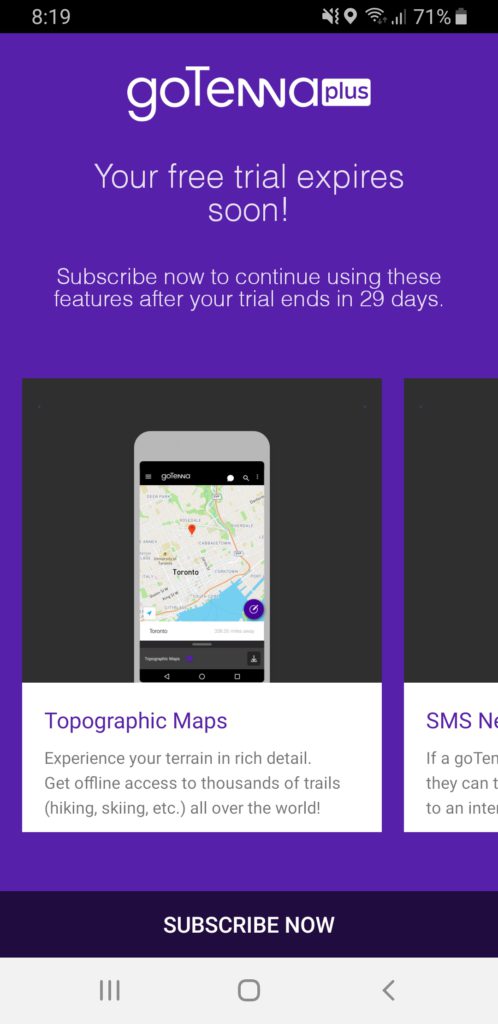 SMS Relay
If a goTenna user who has a cellular service is within the range of your goTenna device, you can send a message to someone via SMS relay. In this case, the recipient doesn't have to be a goTenna user.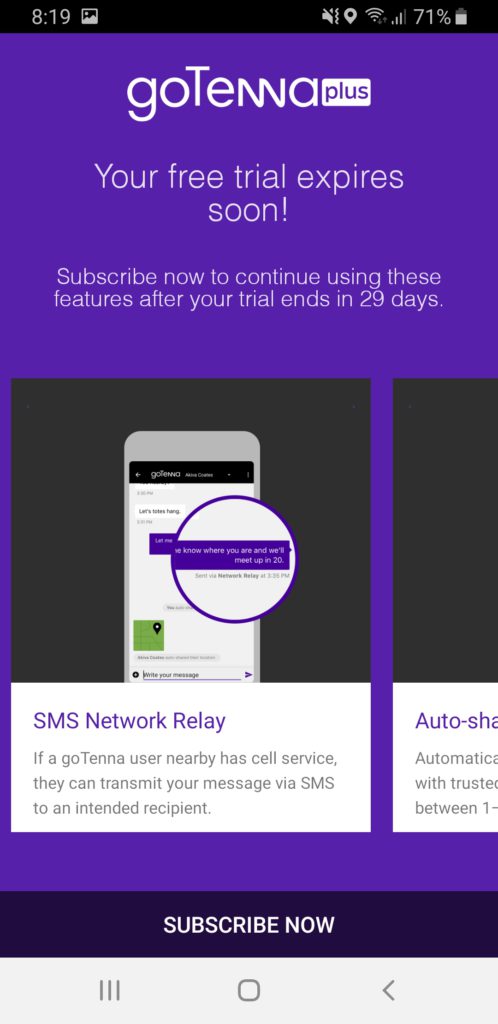 This feature seems very useful, but it totally depends on how often you are in such a situation. The situation is kind of unique and specific. Only you are out of cellular service, and other goTenna users within the range have cellular service. And, a person to whom you send a message is outside of the range of your goTenna, but he or she has cellular service.
Location Tethering
This feature allows you to share your location with a desired recipient automatically. You can choose the frequency from every 1, 5, or 10 minutes and duration from 15, 30 minutes or any duration between 1 to 12 hours.
Download a Topographic Map
Topographic maps show more geographic detail than street maps. You need to download a map in advance where cellular or internet is available. Topographic maps may be useful for hiking, camping, or any other outdoor activities.
Google offline maps are useful in cities of foreign countries. But in a wilderness, without cellular or internet service, Google's offline maps show only Default (street maps) not Satellite or Terrain. So, you can't tell the elevation with Google's offline maps.
However, I suggest you get a decent map with more details such names of trails, locations of facilities, etc. Topographic Map feature is better than nothing, but it doesn't have much information.
Record Trips Statistics
You can record the route, distance, elevation, and time. This feature uses topographic maps which you need to download in advance.
Group Delivery Confirmation
This feature lets you know who within your group has received your message. The number available for a group is up to 6.
Conclusion
It's worth noting that you don't need to provide payment information to start a free trial. It means the subscription doesn't automatically start when a free 30-day trial ends. If you like these features, you can subscribe through the goTenna app. Tap "goTenna plus" found on the bottom of the main menu and tap "SUBSCRIBE NOW."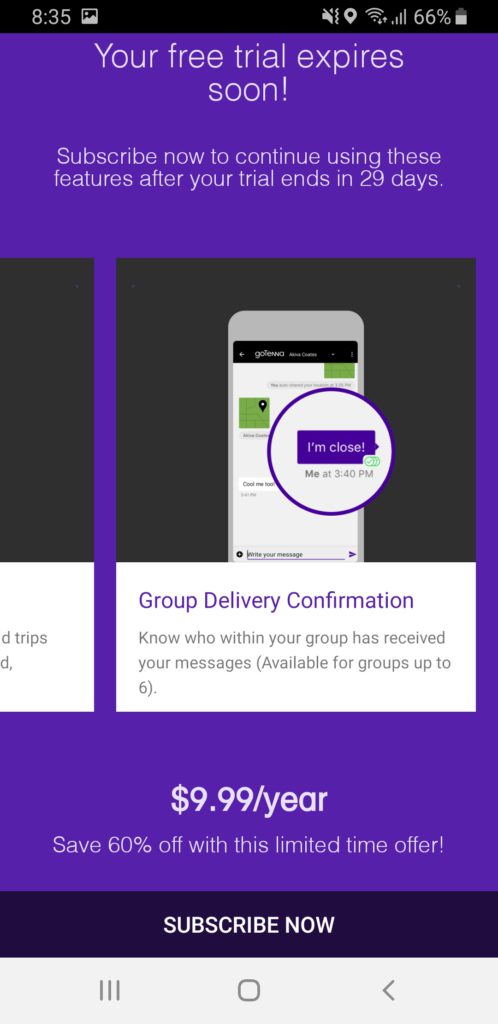 For some people, the features of goTenna Plus are useful. Just use them with a free 30-day trial, and you can determine whether or not it's necessary for you. The price isn't that high, anyway. It's $29 per year. (limited-time introductory of $9.99 per year now!) The goTenna app is available at Google Play Store and Apple App Store.
Related Posts